This past week, YOY took a trip down to Indian Creek State Park for a Shabbaton. Filled with lots of fun and learning, the Shabbaton was a huge success.
Thursday we loaded up the U-Haul and got ready to drive down. Below, Ben Bogart and Danny Lewis load up boards for the eruv into the truck.
With the U-Haul loaded and everyone ready, we davened Mincha and head out toward Flovilla, GA.
 
Above, this gorgeous lake rests beside the bunk houses.
After settling in and having a delicious deli sandwich dinner, we had color war breakout and played a game of floor volleyball as our first activity - imagine playing volleyball while sitting down, and two tables stacked on top of each other instead of a net!
Friday didn't disappoint for fun, either. A few students davened vasikin and went fishing before having breakfast.
The morning brought games of volleyball (this time standing up), football, and a few other sports. Below, a heated game of volleyball.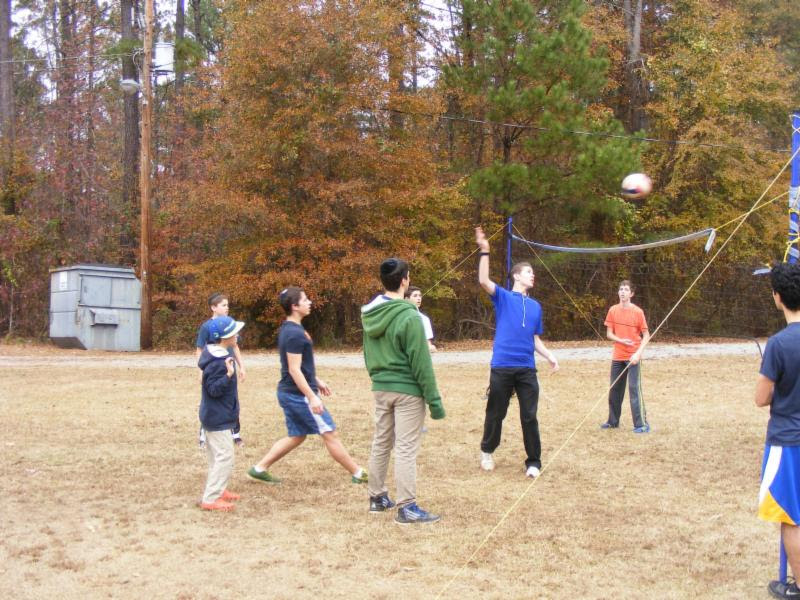 Afterwards, we set up the eruv, which surrounded the dining hall, the Beis Medrash, and two of the staff cabins, prepared for Shabbos, and welcomed some of our new arrivals.
At night, after a delicious chicken and kugel Shabbos se'udah, we split up into our Color War teams and discussed three ways to respond to a person with ideas we don't agree with and then make up a skit using these three ideas - bonus points for humor.
Some of the skits included: A screaming match settled by "eenie-meenie-minie-moe"; a man arguing with himself; and a heated debate ending in a hand in a cast.
Below, the cover page of the packet we discussed.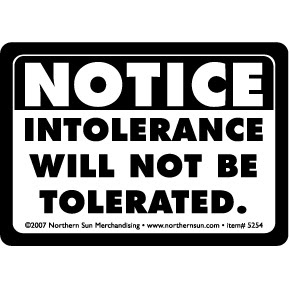 After all the arguments were settled, we had a delicious oneg Shabbos consisting of cholent and other yummy goodies, followed by a nice kumsitz to finish off another fun day on the Shabbaton.
Shabbos day started with a melodic Shacharis (yasher koach to Akiva Hiller for leining). Afterwards, we had a quick kiddush and went to the 'Beis' for a bekius seder, followed by another delicious deli meal.
After lunch we had an afternoon of rest - or games, depending on which bunkhouse you were in.
After a short Gemara seder and Mincha, we had Shaloshudis, followed by some divrei Torah, and then Ma'ariv and Havdalah.
But the fun doesn't stop there - Motza'ei Shabbos brought a heated game of Gaga, followed by a barbeque and bonfire kumsitz.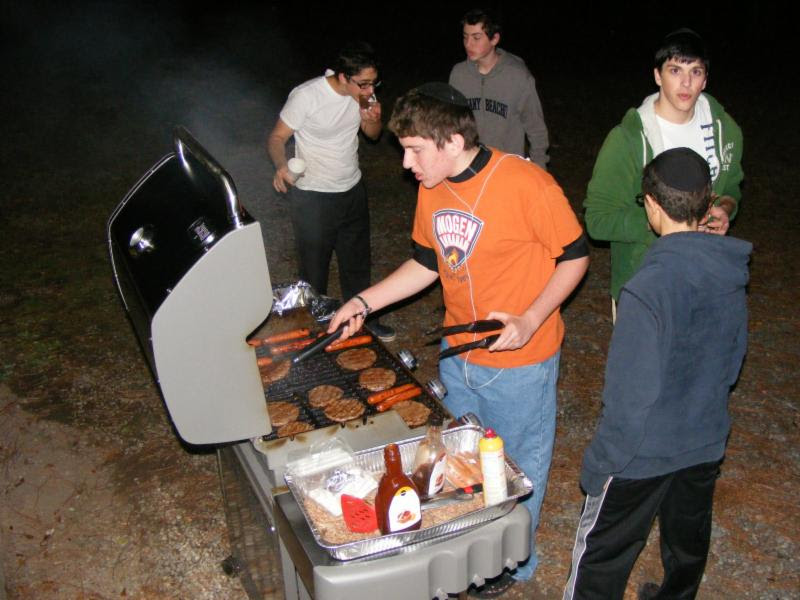 Above, top: Several bachurim eagerly stand around Danny Lewis, waiting for the hamburgers and hot dogs to be ready. Above, bottom: Many kids sing a harmonious tune around the bonfire. 
Sunday morning brought another vasikin minyan with a game of football following. The day brought some more fun, despite all the packing that morning. After lunch, we set out to return to society.
Below, the Yeshiva poses in front of the dining hall before we left.
Ohr Yisrael seems to be the only place where good things don't have to come to an end - a week later, and students are still talking about how much fun they had!